1/1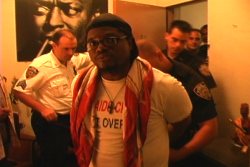 ---
EVICTION
World Premiere
United States, 2006, 5 min
Shooting Format:MiniDV
Festival Year:2006
Category:Documentary Short
Crew:Producers: Steve Loff, Prichard Smith, GO Pictures
Sales:Steve Loff c/o GO Pictures, Brooklyn, NY - T: 917.349.0263
Email:steveloff@gmail.com
Synopsis
A family is forcefully evicted from a Harlem apartment.
About the director
Born, raised and still living in Brooklyn, Steve Loff studied film production at CUNY's Brooklyn College. Producer, Director, Shooter, Editor - Steve has worked in all facets of film and video production. He is co-founder of GO Pictures. Producer of 3 indie films, including the award-winning "Home," and "Remedy." His first directing effort, "Pepsi Won," has played all over the world.
Notes
Prichard Smith, Producer and Anthony Williams, Tenant Rights Advocate will be available for Q&A after the screening.
Related links