1/1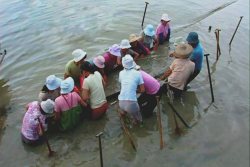 ---
THE RACER
US Premiere
Cast:Pak Gao
Crew:Producer: Li Jinyuan - Editor: Yao Guofa, Zheng Xiaolei, Yang Juchuan - Cinematographer: Yao Guofa - Original Score: Feng Ben - Sound: Yang Juchuan
Sales:Yao Guofa c/o News Center, 233 Huanshizhong Road, Guangzhou, 510010 Guang Dong, China - T: +86 13902281460
Email:yaoguofa@gztv.com
Synopsis
Pak Goo is the head of her Female Dragon Boat Racing Team. The team won the runner-up position last year in Guangzhou International Dragon Boat Tournament, while at the same time offended some local organizers. This year, they are targeting the champion, but the road to this end is rugged. In the race, the team was misjudged foul at the first round, and was abrogated its run-off competency, which meant that they would gain nothing. For fairness and their reputation, and for the prize they are deserved, the 23 women racers, led by Pak Gao, began their 8-hour fight against the inviolable organizer.
About the director
Yao Guofa is an experienced documentary film producer, has engaged in the production of documentary films for nearly 20 years. His master pieces include The Opera Performers, The Drummer, The Hongkong to Peking Highway (39 episodes), Voice from State-owned Enterprises, which won the grand award of National Award for Foreign Publicity and other awards nationwide.
Notes
Director Yao Guofa will be available for Q&A after the screening.
Related links