1/1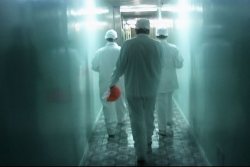 ---
RADIOPHOBIA
US Premiere
WINNER: Diane Seligman Award (Best Documentary)
Crew:Producers: Juan Dakas & Julio Soto - Screenwriter: Alex Mendibil / Julio Soto - Cinematographer: Alex Stikich - Original Score: Pepe Egea - Sound: Guillaume Cora
Sales:Julio Soto c/o LUNA PICTURES, MADRID SPAIN - T: +34.677.683.347
Email:jsotogur@yahoo.com
Synopsis
Twenty years ago, on April 26, 1986, a security test at Chernobyl's nuclear plant in the former Soviet Union, triggered the greatest civilian nuclear catastrophe in history. Unable to cope with this political, environmental and human disaster, the Soviets built a wall of silence around the event. The term 'radiophobia' came to define the symptoms of the people suffering from the fallout of the radiation, some kind of social 'stigma.' Radiophobia is a touching documentary entirely shot in Chernobyl's 'Forbidden Zone.' 'RADIOPHOBIA' examines the Chernobyl disaster and its consequences 20 years later from the perspective of a group of survivors and people who were on duty at the reactor on the fateful night. This is the first time that they have returned to the 'Zone' to reconcile their past with the ruins of the present. Inside the 'Zone' we also meet many of the peculiar inhabitants who never left this highly radioactive and somewhat surreal area.
About the director
Julio Soto is a film producer/director and artist who works and lives in between Madrid and New York. In 2004, he co-founded The Thinklab | Luna Pictures, an independent production company based in New York and Madrid. His most recent documentary film, "Radiophobia", has been sold globally to channels such as: Spanish TVE, Aljazeera Intl., History Channel Italy, DR2 (Denmark), MTV3 (Finland), 1+1 (Ukraine), PTS Taiwan and TVR (National TV Romania). In its first premiere at the 2006 ECU European Independent Film Festival in Paris, the film received the Best Film, Best Documentary and Best Photography awards and it has already been selected for many festivals around the world. He was recently awarded a fellowship from the prestigious New York Foundation of the Arts. His films/installations have received awards at the 2005 Toronto Latin Film Festival, the 2005 Rio de Janeiro VideoArt Festival, the 2002 Brooklyn International Film Festival, the NAP Video Biennial in Pasadena and the 2003 Media Arts Festival Japan. His work has been shown extensively at film festivals such as IDFA, Clermont-Ferrand, New York Underground Film Festival, Viper Basel, Impakt, Oberhausen, Hamburg, Nemo and Kasseler to name a few. His talent and vision also plays a key role in advertising and music video projects for agencies like McCann Erikson, Propaganda Films, Ogilvy, Bates USA, Grey Advertising and FCB.
Notes
Director Julio Soto and cinematographer Alex Stikich will be available for Q&A after the screening.
Related links