1/1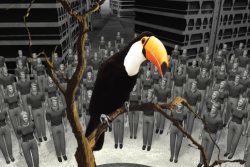 ---
ALL PEOPLE IS PLASTIC
East Coast Premiere
Austria, 2005, 10 min
Festival Year:2006
Category:Animation
Cast:Hanna Zamernik (voice)
Crew:Producers: Harald Hund, Paul Horn, Amour Fou Filmproduktion - Screenwriter: Harald Hund, Andreas Procki, Doris Krane, Michaela Rentsch - 3D Animation & Modelling: Felix Knoche, Merlin Wyschka, Doris Krane, Andreas Prockl, Michaela Rentsch - Original Score: Villalog, Salvatore, Nikolaus Oberhuder, Lars Stigler, Stefan Deisenberger - Sound: Stefan Deisenberger, Mathias Erian
Sales:Ralph McKay, Distributor - Sixpack Film Americas, P.O. Box 914, Marfa TX 79843 - T: 432 729 4554
Email:amovie@earthlink.net
Synopsis
In the history of cinema the modern big city has often served as a screen onto which dystopian fantasies are projected: The idea of the urban space as a cruel, Moloch-like machine drove Fritz Lang's sinister vision of the future, "Metropolis" (1927), in which the mass of slave-like workers is forced into the serfdom of assembly-line labor. Harald Hund's 3-D animation film "All People Is Plastic" refers to both this image of the city as a machine of discipline and Jacques Tati's criticism of the modern age, for whom "corporate culture" serves as a working world of enforced conformity. In the world of "All People Is Plastic" the figures have long been the result of mass production: Hund animated his figures with conventional 3D character-animation software, so-called Default People (standard figures), and fit his matte-gray prototypes, schematized as either male or female, into the slots of a futuristic office world.
About the director
Harald Hund (1967) studied arts and new media in Vienna and makes music videos and short animation films.
Notes
Director Harald Hund will be available for Q&A after the screening.
Related links