1/1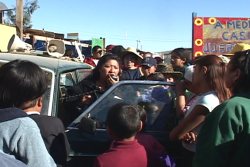 ---
EVERYONE THEIR GRAIN OF SAND
East Coast Premiere
United States, 2005, 87 min
Shooting Format:DigiBeta
Festival Year:2006
Category:Documentary Feature
Crew:Editor: Beth Bird & Libby Horne
Sales:Christie George c/o Women Make Movies, 462 Broadway, Suite 500W, New York, NY 10013 - T: 212 925 0606
Email:cgeorge@wmm.com
Synopsis
This award-winning documentary reveals the struggles of the citizens of Maclovio Rojas in Tijuana, Mexico as they battle the state government's attempts to evict them from their homes to make way for multi-national corporations seeking cheap land and labor. Filmmaker Beth Bird followed the fiercely determined residents for three years as they persistently petitioned the state for basic services like running water, electricity and pay for their teachers, only to be met with bureaucratic stonewalling. Eventually, several community leaders are targeted for persecution, and one is arrested while others are forced into hiding. Balancing these stories of hardship, Bird also captures intimate scenes of daily life in Maclovio Rojas, revealing hard-won triumphs such as the building of a school by hand and the graduation of an elementary school class. This compelling and ultimately inspiring documentary is an eye-opening look at the human cost of globalization and a moving testament to the power of grassroots activism.
About the director
Beth Bird is a documentary filmmaker whose work engages vital contemporary social-issues. Her work has screened nationally and internationally.
Notes
Director Beth Bird will be available for Q&A after the screening.
Related links