1/1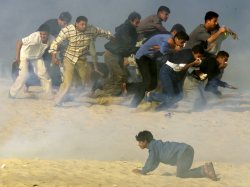 ---
SHOOTING UNDER FIRE
East Coast Premiere
Crew:Producer: Andreas Bremer - Executive Producer: Daniel Petry - Co-Director: Bettina Borgfeld - Cinematographer: Andreas Bremer, Ted Giffords, Bettina Borgfeld - Editor: Darren Flaxstone - Sound: Marc Elsner - Music: Barnaby Taylor - Production Manager: Evelyn Wenzel
Sales:Evelyn Wenzel c/o Context TV GmbH, Lützowstraße 92, 10785 Berlin, Germany - T: +49 30 263978 12 - F: +49 30 263978 29
Email:wenzel@context.tv
Web:www.context.tv
Synopsis
This moving and sometimes shocking film shows the lives behind some of the strongest photos taken in Jerusalem, the West Bank and Gaza during the conflict. "If we want to stay 100% safe, we cannot cover this story" says Reinhard, the head of the Reuters photo bureau in Israel. "Our job is to limit the risk as much as possible."
Reinhard Krause, a German, heads a team of photojournalists made up of local Israelis and Palestinians and we follow both sides as they cover disasters such as suicide bombings, demonstrations and funerals.
Few of us stop to think how our stories and pictures come to us, but with unprecedented access Shooting under fire shows us the full emotional process, highlighting the difficult moral decisions that await even the toughest of snappers. It captures the extreme oppressive atmosphere that surrounds people's lives in Israel.
About the director
Sacha Mirzoeff directs, produces, shoots and edits international human-interest documentaries with the conviction that real people's stories surpass fiction. Sacha is also runing Bivouac Productions.
Related links