1/1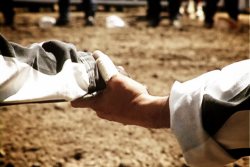 ---
RAZOR WIRE RODEO
(Le Rodéo des Condamnés)
US Premiere
Switzerland, 2006, 52 min
Shooting Format:MiniDV
Festival Year:2006
Category:Documentary Feature
Cast:Jerry Brown, Burl Cain, Daniel Bergner, Burk Foster, Daniel Stanford
Crew:Journalist: Jean-Cosme Delaloye - Screenwriters: Nicolas Pallay and Jean-Cosme Delaloye - Producers: Raphaël Blanc, Artemis Films Productions - Editor: Ian Jaquier - Cinematographer: Ivo Zannetti, Fabien Meyrier, Scott Crain - Original Score: Stephane Kirscher - Sound: Yvan Hofer
Sales:Sylvain Perret c/o Mondo Productions, 108, Rue de Lyon, 1203 Geneva, Switzerland - T: +41 22 310 27 16
Email:sylvain@mondoprod.com
Synopsis
On June 16 1995, Jerry Brown, 18, killed a man for a small bag of marijuana. He was sentenced to life without parole and sent to the Louisiana State Penitentiary at Angola, America's most infamous and largest maximum-security prison. Most of its 5000 inmates are serving sentences so long that they are going to die there.
Now Jerry Brown is the star of a brutal and controversial event: The Angola Prison Rodeo. Each Sunday in October, volunteer inmates battle bulls without training. This event allows them to enjoy a few seconds of fame in front of a crowd of 10 000 people and make some money. For Burl Cain, Angola's warden, the rodeo is a massive moneymaker that funds his major program: the moral and religious rehabilitation of inmates that have no hope of ever walking free.
Through the prism of Jerry Brown, "Razor Wire Rodeo" tells the unflinching story of men, whose lives have been defined by violence and crushed by the pitiless corrections practices in Louisiana. The film investigates the flaws in one of the most severe criminal justice system in the world, where justice and politics are inextricably linked.
Jerry Brown believes the fame achieved with each rodeo, will help him to get out of Angola one day. But in Louisiana, where only two clemencies have been granted in the last ten years, his battle against the bull is merely symbolic of a fight lost a long time ago. A fight to grasp unreachable freedom.
About the director
Nicolas Pallay is a Swiss director based in Geneva, Switzerland. After attending in 1993 the Art Center College of Design in Pasadena, he directed numerous short films in Los Angeles. In 1997, Nicolas went back to Switzerland to focus on documentaries. His latest work includes films on Bosnian refugees in Switzerland and on Muslim fundamentalism in the Netherlands. Nicolas also works as a director for the "Télévision Suisse Romande", a television network in Switzerland.
Jean-Cosme Delaloye is a Swiss journalist based in Brooklyn, USA, where he covers US politics and UN affairs. After graduating in 1998 in German, History and Journalism from the University of Lausanne (Switzerland), Jean-Cosme joined the world section of 24heures, a Swiss daily newspaper. In 2002, he was named US Correspondent for 24heures and Tribune de Genève. Since then, Jean-Cosme has worked with US photographer Tim McKulka on numerous feature stories.
Notes
Nicolas Pallay and Jean-Cosme Delaloye will be available for Q&A after the screening.
Related links