1/1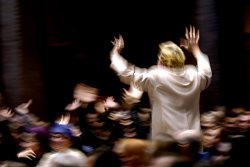 ---
PREACHER WITH AN UNKNOWN GOD
Director: Rob VanAlkemade
United States, 2005, 16 min
Shooting Format:MiniDV
Festival Year:2006
Category:Documentary Short
Cast:Reverend Billy, the Stop Shopping Gospel Choir
Crew:Producers: Rob VanAlkemade, Mike Wilson - Cinematographer: Rob VanAlkemade, Richard Sandler, John Walter - Music Courtesy: 3 Leg Torso
Sales:Rob VanAlkemade, Astoria, NY
Email:rob@cityfish.org
Synopsis
Compelled to somehow cover the 2004 political season, but finding himself profoundly alienated with politics, protests, and even much of the filmmaking process, filmmaker Rob VanAlkemade was eventually seduced, hesitantly, into living on a 50 year old bus with Reverend Billy and The Church of Stop Shopping for a ten day "Stop Big Boxes" tour of California.
The crew miraculously clocked over 1,000 miles and consumed over 100 gallons of diesel, ("We burned fuel to get here today, children", says Billy, "we're all sinners, it's complicated...") with no vehicular mishaps.
The Church conducted cash register exorcisms, (resulting in LA County jail time for the Reverend,) parking lot revivals, and hypnotizing sermons, where the Reverend occasionally lost consciousness by absorbing the evil living inside congregant's credit cards.
The documentary concludes in New York City shortly after the Republican National Convention, when Billy is arrested in Times Square on Stop Shopping Day after pleading with the public to "be creative" and "slow down the shopping however you can."
Many of these bombastic theatrical performances suddenly took a turn into the undeniably spiritual, and the jaded filmmaker began to catch himself grinning, and completely unable to locate the alienation he had been clinging to.
About the director
Rob VanAlkemade was an interviewer and videographer for the Survivors of the Shoah Visual History Foundation from 1995-98 while earning an MA in media studies from the New School for Social Research in New York. He has since been a director, producer, cinematographer, sound recordist and/or editor on a variety of broadcast and independent productions. Recent projects have included features on autistic children and schools, Kosovar refugee teens, Tibetan monks in India, Black Panthers in Cuba, UN weapons inspectors in Iraq, a Burning Man in Nevada, and an activist preacher who gets arrested for exorcizing cash registers.
Notes
Reverend Billy and Publicist Mathew Roth will be available for Q&A after the screening.
Related links