1/1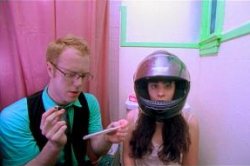 ---
PINK MINUTE
World Premiere
United States, 2006, 16 min
Shooting Format:Super 16
Festival Year:2006
Category:Narrative Short
Cast:Abby Browde, Chris Giarmo, Laryssa Husiak, Jess Barbagallo, Matt Citron
Crew:Producers: Sharon Mashihi, Lisa Lewis - Original Score: Nick Cregor - Sound: Brice Pullan, Frank Rhee - Casting Director: Josh Hoglund - Production Design: Blair Doroshwalther - Audio Post Engineer: Ryan Fagman, Soundscribe
Sales:Sunita Prasad, Brooklyn, NY, USA - T: 315.256.5091 - F: (212) 924-1855
Email:sunitadee@gmail.com
Synopsis
Having discovered that she is pregnant, 20-year-old Luisa prepares to have an abortion. Feeling alternately detached and anxious about the situation, she imagines herself being chased by a monster made of coathangers, alluding to the horrors of illegal abortion before the Roe v. Wade decision. This fantasy segues into another vignette, in which Luisa finds herself in a theater where a strange and beautiful cabaret reflects her confusion and excitement about a changing sense of her own body. Later, an anti-abortion activist plants doubt in her mind about the decision she has made. Finally, in the dream-space of anaesthesia, Luisa makes her peace with the unborn child, and brings closure to the situation on her own terms. Pink Minute maps the course of an imperfect situation, reflecting on its reality through the unique and personal articulation of fantasy. It seeks to define the inner space of the abortion experience, without reducing it to conventional representations and with an essential awareness of the current political atmosphere. Finally, it is a testament to the importance and beauty of autonomy.
About the director
Sunita Prasad is a filmmaker and video artist based in New York City.
Notes
Director Sunita Prasad will be available for Q&A after the screening.
Related links