1/1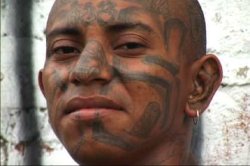 ---
CHILDREN OF THE WAR
(Hijos de la Guerra)
NY Premiere
Director: Alexandre Fuchs
WINNER: Diane Seligman Award (Best Documentary)
Crew:Producer: Alexandre Fuchs - Editor: Taige Jensen
Sales:Alexandre Fuchs, producer - New York, NY - T: (646)797-3155
Email:ajfuchs@libertysurf.fr
Synopsis
"Hijos de la Guerra" tells the story of the Mara Salvatrucha (MS-13), an international Hispanic street gang founded by Salvadoran civil war refugees which the U.S government singles out as the fastest-growing and most violent gang in the country. The film explores the root personal reasons for gang membership, the ensuing explosion of fratricidal violence, as well as the complex role of social and government policy in both containing and aggravating gang proliferation.
Trailer
About the director
Alex is a fine arts photographer and independent filmmaker whose experience encompasses development and production experience on a number of feature films, including "Birth" by Jonathan Glazer, "Ken Park" by Larry Clark, "Purple Butterfly" by Lou Ye, "The Sun" by Aleksandr Sokurov and the upcoming "Lady from Shanghai" from Chinese director Wong Kar-wai. Hijos de la Guerra is his directorial debut. A French-American national, Alex Fuchs grew up in Paris.
Notes
Alexandre Fuchs will be available for Q&A after the screening.
Related links