1/1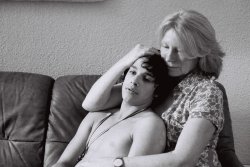 ---
HOUNDED
(Verfolgt)
US Premiere
Director: Angelina Maccarone
Germany, 2006, 87 min
Shooting Format:Super 16
Festival Year:2007
Category:Narrative Feature
Cast:Maren Kroymann, Kostja Ullmann, Markus Völlenklee, Stephanie Charlotta Koetz, Moritz Grove
Crew:Producer: Ulrike Zimmermann - Screenwriter: Susanne Billig - Editor: Bettina Böhler - Cinematographer: Bernd Meiners - Original Score: Jakob Hansonis, Hartmut Ewert - Sound: Dirk Homann - Art Director: Bernard A. Homann
Sales:Ulrike Zimmermann, Producer, C.E.O. - MMM Film GmbH, Hohenesch 82 D-22765 Hamburg Germany - T: 0049-40-246457 - F: 0049-40-24 53 69
Email:zimmermann@mmmfilm.de
Synopsis
In an obsessive sexual encounter with a sixteen-year-old boy Elsa is exposed to the relentless revelation of her own desires. Elsa Seifert (MAREN KROYMANN) is a successful probation officer, completely immersed in her work. She lives with Raimar (MARKUS VÖLLENKLEE), the father of their daughter Daniela. Triggered by the fact of her daughter leaving the parental home, cracks start to appear in Elsa's daily routine. Compromises which, for decades, had stood the test of time, no longer seem to occur to her, she is no longer prepared to toe the line. Instead, she becomes extremely receptive to anything which appeals to her intensity of feeling. Jan (KOSTJA ULLMANN), her new probation candidate, tempts Elsa out of her shell. His gauche devotion, his undisguised offers to sexually subjugate himself to her, produce in her a maelstrom effect from which she does not wish to extricate herself. Elsa enters willingly upon this risky venture with Jan. She desires that which is not permissible, and yet which is there. Jan and Elsa celebrate, even stage their desires, developing their own entire sexual cosmos. In the process of doing so, her life visibly slips out of joint ...
Trailer
About the director
Angelina Maccarone was born in Cologne in 1965 and studied German and American Literature and Film at the University of Hamburg. Angelina is also a lyricist for Udo and teaches film directing at the German Film Academy in Berlin.
Notes
Ulrike Zimmermann, Producer, will be available for Q&A after the screening.
Related links