1/1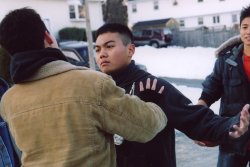 ---
WINDOWBREAKER
United States, 2006, 11 min
Shooting Format:MiniDV
Festival Year:2007
Category:Narrative Short
Cast:Raymond Zhang, Fiona Chen, Ai Cheng, Bryan Wilson, Emily Lodish
Crew:Producer: Bryan Farrell Wilson - Editor: Anna Boden - Original Score: InsaneVietBoy - Crew: Maura McKenney, Julie Shea, Katie Wilson, Alyssa Swanzey
Sales:Tze Chun, Brooklyn, NY 11238 - T: 646.258.3444
Email:tze@thecomplications.com
Synopsis
When a string of break-ins occurs in a racially-mixed suburb, residents are abuzz as to who is responsible. In eleven short minutes, this film weaves together the stories of two paranoid children, their workaholic mother, a gang of Vietnamese teens, a security store employee, and one prolific windowbreaker.
About the director
Chun has directed 12 short films and written seven feature spec screenplays. Chun currently works as a painter and visual artist. Recently, he painted the original artwork for the poster for Half Nelson (THINKfilm).
Notes
Director Tze Chun and Producer Bryan Wilson will be available for Q&A after the screening.
Related links