1/1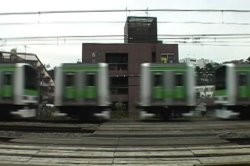 ---
THE TRAINS
East Coast Premiere
Director: Takahiro Hirata
Sales:Takahiro Hirata, Tokyo, 153-0064, Japan - T: +81-90-7730-9908
Email:info0706@the-trains.com
Web:the-trains.com
Synopsis
The concept of movie is to play music with a picture. This movie is made only by shot movie and sound. This musical scale is played by changing of reproduction speed.
Trailer
About the director
Takahiro Hirata, a 3DCG Programmer & Film Maker & Visual Performer, graduated from the Image Forum Institute of Moving Image.
Notes
Director Takahiro Hirata will be available for Q&A after the screening.
Related links