1/1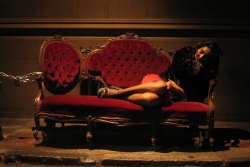 ---
GOLDEN WEDDING
(Bodas de Oro)
World Premiere
Chile, 2006, 12 min
Shooting Format:16mm
Festival Year:2007
Category:Narrative Short
Cast:Patricio Bunster, Lorene Prieto
Crew:Producers: Denise Borberg & Nimrod Amitai - Asist. Director: Rodrigo Perez - Cinematographer: Miguel Bunster - Art Director: Amparo Baeza - Asist. Producer: Katalina Kruguer - Original Score: Rodrigo Saez - Sound: ATOMICA S.A
Sales:Nimrod Amitai, Director - LAS CONDES, SANTIAGO, CHILE - T: +56 (2) 2431958
Email:nmamitai@gmail.com
Synopsis
An old widower carries a red couch through the streets of Santiago City. Every night a tired hooker walks around his neighborhood. Tonight, both of them will find the affection they were looking for.
Trailer
About the director
Nimrod Amitai is a half Israeli half Chilean filmmaker who lives in Santiago, Chile. He studied in UNIACC Film School where he managed to write and direct five short films and three video clips. He received an MTV video music award nomination and several prizes on his fourth short film "Searching for Aristotle". Currently, he is directing an adaptation of T.V' s sitcom "The Office" and writing his first feature film.
Notes
Director Nimrod Amitai will be available for Q&A after the screening.
Related links