1/1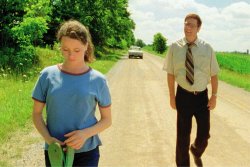 ---
SMALL AVALANCHES
US Premiere
Director: Lara Fitzgerald
Canada, 2006, 22 min
Shooting Format:Super 16
Festival Year:2007
Category:Narrative Short
WINNER: Best Actor Female and Best Short
Cast:Sheila McCarthy, Ron Lea, Max Vendrig, David Keely,
Crew:Producer: Howard Fraiberg - Screenwriter: Lara Fitzgerald (adapted from the story by Joyce Carol Oates) - Editor: Michele Francis - Cinematographer: Mark Caswell - Sound: Steve Munro
Sales:Howard Fraiberg, Producer - Mediatique Inc, 229 Booth Avenue Toronto, ON, M4M 2M7, Canada - T: 1-416-367-8464 - F: 1-416-367-8466
Email:howardfraiberg@mediatique.ca
Synopsis
Adapted from a short story by award-winning author Joyce Carol Oates, Small Avalanches is the gripping tale of a teenage girl's dangerous encounter with a middle-age man. Set in rural Ontario in the mid-1970s, Small Avalanches follows Nancy, a surly 13-year-old as she tries to find something to do on a hot summer day. After pestering her mother for some change, Nancy heads to the rundown garage where her uncle works. She walks aimlessly around the car wrecks and gas pumps, and grumbles jealously about her cousin with a babysitting job. Finding no sympathy from her uncle, Nancy returns home in the suffocating heat along a deserted road. When she is accosted by a strange and aggressively charming man who follows her from the garage, the teenager becomes confused-at once intimidated and flattered by the man's attention. As his intentions become clear and his manner menacing, Nancy escapes the would-be molester by forcing him to chase her through the forest.
Trailer
About the director
Lara Fitzgerald is an award-winning filmmaker. Her film "Remembering Memory" won Best Director and Best Documentary at the 1998 Hot Docs Film Festival. "Scenes From Childhood," a short, won several awards including Best Cinematography at the Toronto Worldwide Short Film Festival of 2002. Lara's films have played in festivals around the world including at the Toronto and Mannheim Film Festivals. Currently, Lara is developing two feature films including another adaptation of a story by Joyce Carol Oates.
Related links