1/1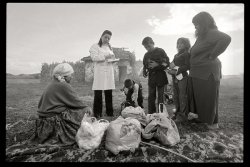 ---
MY BLOOD MY COMPROMISE
US Premiere
Cast:President Fatmir Sejdiu, Adem Demaci, Albin Kurti, Congressman Tom Lantos, Oliver Ivanovich
Crew:Cinematographer: Drea Cooper - Editors: Nuhi de Stani & Drea Cooper - Still Photography: Zackary Canepari - Sound Editor: Jeremiah Moore - Consultants: Michael Brennan & Juno Pak - Production Assistants: Teuta Oxha, Hallit Bislimi (Kosova Crew) - Composers: Michael Brennan & Joe Trentacosta - Web Design: Adrian Baker - Writers: Nuhi de Stani, Michael Brennan, Juno Pak - Translations: Kujtesa de Stani, Nuhi de Stani, Hysen Hundozi
Sales:Upperbound Films - Alameda, CA 94501 - T: 510-823-5474
Synopsis
My Blood My Compromise reveals the horror of President Slobodan Milosevic's pursuit of power during the 1998-99 Kosova war. Milosevic's strategic warfare includes cruel forms of physical abuse devised to ultimately destroy the mind, identity, and posterity of its victims.
Torture, murder, rape and other atrocities, committed against women and children in particular, work within the design of a military strategy that fights its most lethal battles after the dust settles. This method deliberately strikes the family nucleus in order to systematically destroy the region's society and culture with centripetal force.
My Blood My Compromise demystifies these gruesome tactics within the province of Kosova. Filmmaker Nuhi de Stani illuminates the immediacy of the peoples' suffering, and the ongoing nature of their struggles in Kosova. Eight years after UN's intervention, the women and children are still the ones suffering and Kosova's final status remains in question.
The documentary's stark honesty results from de Stani's personal endeavor to find understanding in an area and situation riddled with the scars of political greed. The film unveils the continuing human rights violations evidenced from testimonials, key political figures, historians and activists. The failures and possible successes of the United Nations Mission in Kosova underscores a contemporary and universal relevance.
Trailer
About the director
Nuhi de Stani is a filmmaker based in San Francisco. Nuhi is an Albanian Macedonian who was raised in Paterson, New Jersey. He is the fourth of five children and the son of a factory worker. Nuhi received his Bachelor degrees in English and Film Studies at the University of California, Berkeley. Nuhi received his Master of Fine Arts in Cinema from San Francisco State University. de Stani began the research for My Blood My Compromise in 2002 by visiting Kosova and conducting preliminary interviews. To better prepare himself with the delicate issues of rape, Nuhi volunteered at the San Jose YWCA Rape Crisis Center in California and became a certified rape counselor/advocate. Nuhi plans to donate 90% of profits made through his first feature documentary to the women and children of Kosova.
Notes
Director Nuhi de Stani and Michael Brennan will be available for Q&A after the screening.
Related links