1/1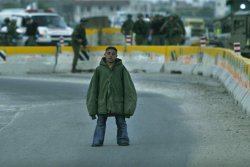 ---
THE MAKING OF A MARTYR
Director: Alistair Leyland & Brooke Goldstein
Cast:Hussam Abdu (15 year old Palestinian Boy caught attempting to blow himself up) & Family, Zacharia Zubeidi (Leader of the Al Aqsa Martyrs Brigades, designated terrorist group, in Jenin), Various Palestinian children and their teachers, Family of Wafa Idris, female suicide bomber
Crew:Producers: Brooke Goldstein, Alistair Leyland - Screenwriter: Elliott Shiff - Editor: Marlo Miazga - Original Score: Greg Johnson - Sound: Emil Jany
Sales:Lizanne Rouillard, Distributor - Filmoption International Inc., 26 Cambridge Avenue Toronto, Ontario, M4K 2L1 Canada - T: (514) 931-6180 ext.266 & (514) 696-0621 - F: (514) 939-1934
Email:lizanne@filmoption.com
Synopsis
On March 24th, 2004, 15 year old Hussam Abdu was apprehended at an Israeli border checkpoint with live explosives strapped around his waist. Yet, instead of detonating the bomb, out of fear of death and love for his family, Hussam voluntarily surrendered and is now serving time in an Israeli prison for attempted murder. Since the start of the Palestinian Intifada, an alarming number of suicide bombers have been children under the age of 18. To explore this troubling phenomenon, filmmakers Brooke Goldstein and Alistair Leyland risked their lives and traveled to the Palestinian towns of Jenin, Ramallah, Tulkarem and Nablus, seeking out and meeting with leaders of terrorist organizations responsible for recruiting children for suicide attacks. Through a series of first hand and thought-provoking interviews, "The Making of a Martyr" brings its audience into a part of Palestinian culture previously ignored by uncovering those who are facilitating, teaching and paying children to take their own lives as human bombs.
About the director
Born in Toronto, Brooke Goldstein received her J.D. from the Cardozo Law School and co-founded A2B Film Productions. Upholding children's rights is of concern to Brooke and she works as a filmmaker, activist and legal advocate to that end. Brooke has appeared on FOX News, The John Batchelor Show, WABC News Talk Radio, TVE (Spain), RAI (Italy), NYC TV, Time Warner's "Faith to Faith" television show, among other Alistair Leyland began a career in film by following fourteen families to rural China as they each adopted baby girls. He then went to the middle eastern to learn why children were blowing themselves up for god & country. His next project tackles the role of the media in the nation building process - in Sierra Leone. His work has been showcased on CBC, SLICE network and MTV, as well as the internet.
Notes
Director Brooke Goldstein will be available for Q&A after the screening.
Related links