1/1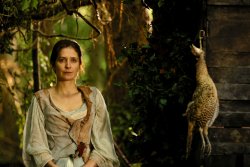 ---
REBEL SONG
World Premiere
Cast:Alyth MacCormack, James Grant, Jeff Rudom, Jake D'Arcy
Crew:Producer: Pamela Nelson - Editor: Bert Eeles - Cinematographer: Jerry Kelly - Original Score: Catriona McKay - Sound: Chris Campion
Sales:Dancing bear films, Glasgow - T: (44)1415634278
Email:simonarthur1@googlemail.com
Synopsis
A woman and two men play out their broken lives amongst the swaying trees, singing hymns of love, lust and murder.
About the director
Simon Arthur, a Screen Academy Scotland writer-director, has completed two short films recently, Slave and Silver Tongues. He's a method writer, working as a prison guard, then as security in a brothel, both for three months, and plans to live homeless in London mid 2007. Simon recently shadowed Walter Murch and Francis Ford Coppola as they mixed the latter's new film, Youth Without Youth.
Notes
Director Simon Arthur will be available for Q&A after the screening.
Related links