1/1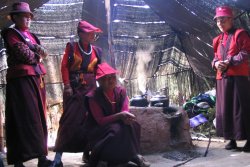 ---
DAUGHTERS OF WISDOM
World Premiere
United States, 2007, 68 min
Shooting Format:MiniDV
Festival Year:2007
Category:Documentary Feature
WINNER: Best Editing and Audience Award
Cast:Lama Norlha Rinpoche, Nuns of Kala Rongo Monastery, People of Nangchen
Crew:Editor: Carla Ruff - Cinematographer: Gena Konstantinakos - Original Score: Nuns of Kala Rongo - Sound Edit: Laura Hanna
Sales:Bari Pearlman - BTG Productions, PO Box 133, New York, NY 10014, USA - T: (212) 989-8978 - F: (212) 989-8978
Email:bari@btgproductions.com
Synopsis
Daughters of Wisdom is a story of the people of contemporary Tibet told from outside the familiar political narrative of this vast and diverse country. It is the intimate portrait of the nuns of Kala Rongo, a rare and exceptional Buddhist Monastery exclusively for women situated in Nangchen, on the remote and rural Northeastern Plateau. These women are receiving unprecedented educational and spiritual training, and helping to preserve their rich cultural heritage even as they slowly reshape it.
Trailer
About the director
Bari Pearlman is a Manhattan-based independent producer, director, and writer. In addition to recently completing DAUGHTERS OF WISDOM she is currently in production on A PERIOD PIECE about women's relationships to menstruation, and is producing a feature documentary about UP WITH PEOPLE. She was Executive Producer/Co-Producer/Co-Director (together with Phyllis Heller) of the award-winning short MAH-JONGG: THE TILES THAT BIND about the Jewish- and Asian-American women who play the centuries-old Chinese game, Producer of Derek Cianfrance's SHOTS IN THE DARK (Court TV, Channel 4, 2001) about the history of crime scene photography, Producer of Joe Berlinger and Bruce Sinofsky's VH1 FAN CLUB: ABBA (2002), and Producer of Jonathan Judge's FOOD FOR THOUGHT: GOOD TASTE IN ART (2006) about a group of artists who create edible art.
Notes
Filmmakers will be available for Q&A after the screening.
Related links