1/1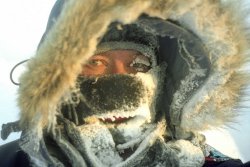 ---
99 DAYS ON THE ICE
(99 JOURS SUR LA GLACE)
US Premiere
Director: Jean-Gabriel Leynaud
Crew:Producer: Patrick VILLENEUVE - Editor: Helgi TOFTEGAARD
Sales:Patrick VILLENEUVE, Producer - SOMBRERO AND CO, 59 bld du Général Martial Valin, 75015 PARIS, FRANCE - T: +33 1 53 98 88 81 - F: + 33 1 45 58 26 12
Email:annouk@sombreroandco.fr
Synopsis
Crossing the Arctic, leaving one shore of the ocean and joining up with the other, 100 days later, 2000 km farther... This is the story of the couple who walked back to the North Pole, returning from 99 days of skiing and swimming through the Arctic Ocean. She's the head of a big publishing company and the mother of two young children; he's a filmmaker specializing in documentaries shot in the wildest places on earth. Their dream: the longest, coldest and hardest of polar expeditions. The dream of a couple who met at the North Pole two years ago. The dream of a couple who wants to push their limits even further to extend this trip both on the ice and inside themselves in a world of silence and icy hollowness.
About the director
Jean-Gabriel Leynaud is a film director and camera operator based in Paris, France. Jean-Gabriel has directed numerous documentaries for Canal+, France2, ARTE, France3, BBC, France5, RAI, and National Geographic.
Filmmaker's note
"When I saw through the plane window how much the Arctic was melting, I could feel how closed we have been from a disaster. We were alive but the Arctic Ocean was dying."
Related links