1/1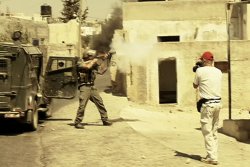 ---
THE EDGE OF HOPE
(Am Rand der Hoffnung)
US Premiere
Cast:Ramadan Mohammed Affanah
Crew:Producer: Benjamin Talsik - Editor: Eyas Salman - Cinematographer: Marcus Zaiser - Original Score: Natalia Dittrich
Sales:Gerd Schneider, Wagenburgstrasse 1, D - 70 184 Stuttgart, Germany - T: +49.163.84.17.440
Email:reverendschneider AT web.de
Synopsis
With the disengagement of the Jewish settlers on 17th April 2005 begins a new chapter of the Israeli-Palestinian conflict, but most Palestinians do not believe that the withdrawal will change the general situation. Though both sides have had their fill of violence, it is clear that the Israeli occupation has been an hotbed for numerous extremists and brutal acts of revenge. The Palestinian situation is characterized by injustice and helplessness. "The Edge of Hope" focuses on a 35 year old Palestinian named Ramadan, who was born in a refugee-camp and is still living there even though he has a good job: He is camera-operator for Al-Jazeera at the Ramallah office of the well-known Arabian network. The camera gives him the feeling of producing something meaningful while his homeland is caught in daily absurdities. "Daily life" has a completely different meaning in Palestine. Narrated by Ramadan, the film delivers insight into a life under occupation. It's a life running in circles, with hope for better times but no belief that these will come - it's the edge of hope.
About the director
Gerd Schneider (1974, Germany) studied Catholic Theology and Philosophy at Friedrich-Wilhelm-University in Bonn and at the University of Wien. From 1998 to 2000, Gerd completed several training courses in theatre and film (Schauspiel Bonn, Müller & Selig-Filmproduction, Columbia Tri-Star and others). Since 2000, he has studied Film & Media and Directing at Filmakademie Baden-Württemberg. "The Edge of Hope" is his graduation at the Filmakademie Baden-Württemberg.
Notes
Director Gerd Schneider will be available for Q&A after the screening.
Related links