1/1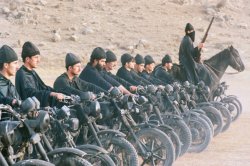 ---
HAVE YOU ANOTHER APPLE?
(Baaz ham sib daari?)
US Premiere
Cast:Zabih Afshar, Leila Mousavi, Ali Yaaghobi, Ahmad Reza Akbari, Maryam Boubani
Crew:Producer: Bayram Fazli - Screenwriter: Bayram Fazli - Editor: Ebrahim Saeidi - Cinematographer: Bayram Fazli - Original Score: A. Babaghorban - Sound: Amir Hosseim Ghasemi, Farshid Faraji
Sales:MarjanA, Managing Director - Life Media International, Tehran - Iran - T: +98(0)9121938815
Email:life-media@neda.net
Synopsis
In an unidentified, atemporal dystopia, a despot rules with an iron fist. Helping him to maintain control over the people are Dasdaran - black-clad warriors who are never without their scythes. As in any fantasy, a hero will rise from within the masses to deliver it from bondage. The problem here is that the hero is a loser: overweight, bald, clumsy, and interested solely in his next meal. The requisite partner hates him, too. The allegorical comedy from Iranian filmmaker Fazli is brilliantly surreal in its attack on religion and in its deflation of myth making.
About the director
Bayram Fazli was born in 1968 in Azarbaijan (Iran). He has graduated from Art University (Faculty of Dramatic Arts, Tehran), and mostly acts as director of photography in Iranian cinema at present. He has collaborated with many films as a director of photography.
Related links