1/1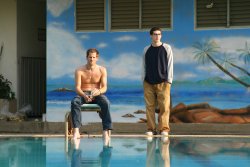 ---
THE ELEPHANT KING
Cast:Ellen Burstyn, Jonno Roberts, Tate Ellington, Florence Faivre, Josef Sommer
Crew:Producers: Emanuel Michael, Tom Waller, Tamar Sela - Screenwriter: Seth Grossman - Editor: Saar Klein, Lee Chatametikool, Inbal B. Lessner - Cinematographer: Diego Quemada-Diez - Original Score: Adam Balazs
Sales:Steven Beer, Lawyer - Greenberg Traurig, 200 Park Ave NY NY 10166 - T: 212-801-9294
Email:BeerS@gtlaw.com
Synopsis
Facing fraud charges in the US, Jake (Jonno Roberts) has escaped to Thailand, where he has abandoned his anthropology research in favor of whiskey, women and petty crime. That is, until his introverted younger brother Oliver (Tate Ellington) comes to visit. Sent by a domineering mother (Academy Award Winner Ellen Burstyn) to bring Jake home, Oliver is soon swept into Jake's intoxicating good times- and into the arms of the alluring bartender Lek (Florence Faivre.) But as the true extent of Jake's decadence and self-destruction dawns on Oliver, he's forced to decide whether he will save his brother's life or his own. Written and directed by award-winning filmmaker Seth Grossman, The Elephant King is a sensual, thought-provoking story of Americans adrift in a world they don't fully understand.
Trailer
About the director
Seth Grossman was born and raised in Durham, NC, and studied English literature and creative writing at Princeton University. His short stories have been published and garnered numerous awards. After a short stint as editor-in-chief of trade journal, Grossman attended film school at NYU. His first film, a short documentary about artificial insemination in the swine industry entitled "American Pork," screened at film festivals around the world. His next film, "Shock Act," won Best Narrative Short at the 2004 Tribeca Film Festival and the Gold Hugo for Best Student Film at the Chicago International Film Festival. The Elephant King is his debut feature.
Notes
Director Seth Grossman will be available for Q&A after the screening.
Related links