1/1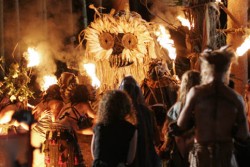 ---
THE RIVER OF COPSA MICA
World Premiere
Cast:Joesph Mesiano, Hirsto Hristov, Evgenia Randilova, Charles Buckley, James DiSalvatore
Crew:Producer: Dustin Highbrige - Screenwriter: Ryan Uzilevsky - Cinematographer: Philip Armand - Original Score: Kevin Harkins - Sound: Dehran Duckworth - Production Design: John Vogt
Sales:Radius 5 Films, Brooklyn, NY 11206 - T: 347 731 5001
Email:uzi@radius5.com
Synopsis
On the European countryside, World War II is changing the course of civilization forever. In the moment of truth, a politician must choose between political power and human life by diving deep into his suppressed childhood memories of a tribe of Gypsies that lived outside his war torn village. Will this emotional unearthing turn the tide for peace, or further entrench his country in war? Set in a time when people did not envision the extent that industrialization and nationalism would be devestating our planet today, The River of Copsa Mica unfolds important lessons for our future through a window to the past.
Trailer
About the director
Director Ryan Uzilevsky is a art director and filmmaker who's costumes, sets, and atmospherics constantly push the language of cinema. With an educational background in sculpture, anthropology, and creative writing, Ryan moved to New York and co-founded a film production company with the goal to combine these three disciplines. His most recent attempt is The River of Copsa Mica, a magical realism period drama based in Transylvania during WWI and II.
Notes
Cast & Crew will be available for Q&A after the screening.
Related links