1/1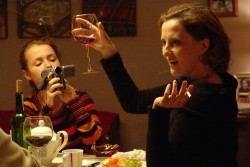 ---
WHAT IT'S LIKE TO BE MY MOTHER
(JAK TO JEST BYC MOJA MATKA)
US Premiere
Director: Norah Mc Gettigan
Poland, 2007, 31 min
Shooting Format:HDCAM
Festival Year:2008
Category:Narrative Short
Cast:Iza Kuna, Olga Frycz, Wojciech Mecwaldowski, Katarzyna Chmara
Crew:Producers: Andrzej Wajda, Master School of Film Directing (Poland), Association of Polish Filmmakers, TVP Kultura, Keep it country Productions Ltd, - Editor: Małgorzata Orłowska and Mariusz Kus - Cinematographer: Marius Matzow Guldbrandsen - Sound: Piotr & Barbara Domaradzcy
Sales:Malcolm Mc gettigan, Producer - Keep it Country Productions Ltd, Dublin 9 Republic Of Ireland - T: 00353868151782
Email:kicproductions@gmail.com
Synopsis
Monika is a 35 year old single mother who lost her legs in an accident two years ago. Her 18 year old daughter, Julia, makes a film entitled What it's like to be my mother as part of a school project. The film is unexpectedly selected for a festival of disability and art. Monika thought her biggest fear was seeing herself on screen as a woman in a wheelchair, but finds it a greater challenge to accept that her daughter is now a woman, who must soon go her own way. A mixture of pain and humour, and dignity and weakness, this is a simple story of love between a mother and daughter.
About the director
Born on 30 July 1976, in the North West of Ireland, Norah Mc Gettigan is a theatre graduate from the Universtiy of Ulster. On completing her studies, she travelled to Eastern Europe where she worked as a teacher for several years before commencing an M.A. program in film directing at The Polish National Film School. Her films have won numerous awards worldwide and were selected for the Cinefondation student film competition at Cannes. Norah is preparing for her feature film debut, which she hopes to shoot in 2008.
Notes
Director Norah Mc Gettigan & Co-producer Malcolm Mc Gettigan will be available for Q&A after the screening.
Related links