1/1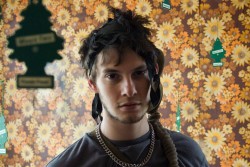 ---
BIGGA THAN BEN
East Coast Premiere
England, 2007, 85 min
Shooting Format:Super 16
Festival Year:2008
Category:Narrative Feature
Cast:Ben Barnes, Andrei Chadov, Hero Fiennes Tiffin, Ovidiu Matesan
Crew:Producers: L Holford, S Halewood - Screenwriter: S Halewood - Editor: James Smith-Rewse, Jamie Trevill - Cinematographer: Ben Moulden - Original Score: Pete Doherty, Paul E. Francis - Sound: Sam Mendelssohn - Line Producer: Andy Chapman - Locations: Nick Hale
Sales:Altadena Pictures, Altadena, CA 91001, USA - T: +1 626 296 9977
Email:ildi@inframe.net
Synopsis
Cobakka and Spiker are two Moscow drop-outs who visit London with dreams of golden pavements. But the city is a cold, unwelcoming place and the two soon fall off the streets and into the gutter. From where they stand the skies are full of clouds, and it becomes impossible to look up at the stars.
Trailer
About the director
S. A. Halewood has directed short films, commercials and promos and the world's first interactive web movie "Running Time," which was nominated for a BAFTA. Her works have earned numerous accolades. "Rocket Man" premiered at Venice Biennale and "Two Minute Warning," released in the UK, Switzerland, Austria and Germany, won the Golden Boot at Portobello. A documentary series about Latino street gangs in Los Angeles, "The Tribe" has been picked up for TV in the US. "Bigger Than Ben" has already won Best Comedy Feature at Los Angeles DIY. Halewood is currently working on a feature script about the murder of Frank Olson and co-writing "Death & Deliverance" with award-winning LA Times journalist Richard Marosi.
Notes
Director Suzie Halewood will be available for Q&A after the screening.
Related links