1/1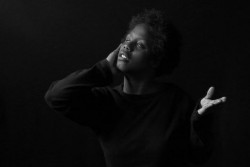 ---
NIGHTWALKING
US Premiere
Netherlands, 2007, 12 min
Shooting Format:DVCam
Festival Year:2008
Category:Experimental
Cast:Stephan, Josy, Luuk, Delano, Ashivali
Crew:Producer: André Arends - Editor: Marcel Prins - Cinematographer: Marcel Prins - Original Score: André Arends
Sales:Arends Productions, EL ZEIST, The Netherlands - T: +31306922985
Email:info@arendsproducties.com
Synopsis
The deaf and blind are the main characters of a lyrical depiction of the handicapped. Their movements are enhanced by painterly piano accompaniment along with sensitive lighting and camera perspectives. Their movements and bodies are dancelike, illustrating the aesthetic qualities of a handicap.
About the director
Ellen Blom (1956) studied at the Academie voor Expressie in Utrecht (the Netherlands). She made several drama and documentary films for television.
Filmmaker's note
It was the summer of 2004 that composer/theatre maker André Arends first visited Bartiméus Doorn in The Netherlands. A place where more than 350 people live with a visual and mental disability. A lot of them are also audible and physical disabled and are barely able to communicate with the outside world. The movements and expression forms were astonishing. These reactions consist of movements with and positions of the body (p.e. the hands) having an unique and for us a - technically spoken - complicated form. They are obviously not artificial but pure and are coming from the inside. The inhabitants of Bartiméus Doorn express their selves physically. They communicate with their own body language. The movements are combined with facial expressions or use of their own voice. Blind people haven't seen their own movements and those of others ever. The communication forms are not preconditioned like we - the not disabled people - use them. André wanted to show the world these virtuoso movements.
Notes
Producer and Composer André Arends will be available for Q&A after the screening.
Related links