1/1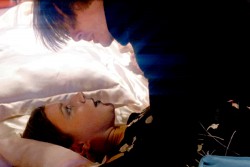 ---
DAYS WILL NEVER BE THE SAME
US Premiere
Czech Republic, 2008, 4 min
Shooting Format:35mm
Festival Year:2008
Category:Experimental
Cast:Sunshine, Vaclav Jiracek, Nora Sopkova, Aruska
Crew:Producers: Eva Pospisilova, Kristina Sediva, G8 Creative Lab - Cinematographer: Jiri Malek - Original Score: Sunshine - Designer: Jana Kochankova
Sales:Jan Zajicek, Prague, Czech Republic - T: +420 731 149 529
Email:xjanzajicek@seznam.cz
Synopsis
A wild love affair that culminates in a tragic end is captured entirely in one shot by a motion-controlled camera. Time is frozen when the angel of death opens his eyes as velvety black cats encircle a dead body.
Trailer
About the director
Jan Zajicek (Born 1977 Prague) is a screenwriter, director and music composer. Jan has studied digital video, computer graphic, animation and film directing at Film and TV School of Academy of Performing Arts (FAMU). Since 2004 he cooperates with Czech National Theatre and State Opera House Prague. Jan also teaches Experimental Audio-visual Production under The Department of Inter-medial Communication of Prague's Literary Academy of Josef Škvorecký.
Notes
Director Jan Zajicek will be available for Q&A after the screening.
Related links