1/1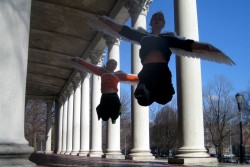 ---
FLYING LESSON
NY Premiere
Director: Rosane Chamecki, Phil Harder, Andrea Lerner
United States, 2007, 4 min
Shooting Format:HDCAM
Festival Year:2008
Category:Experimental
WINNER: Best Experimental
Cast:Rosane Chamecki, Andrea Lerner
Crew:Producer: Pano Pra Manga - Concept by: Rosane Chamecki and Andrea Lerner - Editor: Darren Roark - Cinematographer: Phil Harder - Original Score: Prelude No.1 from The Well-Tempered Clavier, Johann Sebastian Bach, performed by Vivian LeWine - Additional Camera: Darren Roark and Paris Remillard
Sales:Rosane Chamecki - Pano Pra Manga, New York NY 10009 - T: 212 677 7041
Email:rosane@gibiteca.com
Synopsis
Two women bat their wings, preparing to take off. They practice the dream of flight.
About the director
Rosane Chamecki and Andrea Lerner moved from Curitiba, Brazil to New York in 1989, after graduating in Dance. Once in New York, they started their choreographic career. During their 15 years collaboration they have created more than 10 evening length dances to much critical acclaim. ChameckiLerner's dance work has been presented in various international dance festivals and venues. In 2007, they premiered "EXIT" at The Kitchen in New York. This piece was a good-bye to their dance career. Flying Lesson is their first film.
Philip Harder has directed more than 200 music videos, numerous short films, and commercial projects for clients such as iPod, Sprint, The Gap, Target, and Hewlett Packard. His credits include music videos for PRINCE, FOO FIGHTERS, INCUBUS, ROB THOMAS, HILARY DUFF, LOW, PULP, BARENAKED LADIES, LIZ PHAIR and YELLOWCARD, all of which feature Harder's unique visual experimentation. Harder has earned several top distinctions including an MVPA award for Best Alternative Video, MTV Awards video nomination, an AICP Video, SXSW short film award, and a nomination for MVPA's Director of the Year. In 1996 Phil worked with Chamecki-Lerner creating films for their dance performance Please Don't Leave Me.
Notes
Directors Andrea Lerner and Rosane Chamecki will be available for Q&A after the screening.
Related links