1/1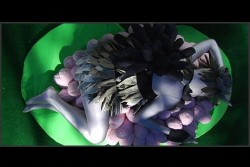 ---
ETHNOGRAPHY OF NO PLACE
NY Premiere
Director: Rachel Lears & Saya Woolfalk
United States, 2007, 14 min
Festival Year:2008
Category:Experimental
Cast:Samara Gaev, Elisa Casinader, Georgette Maniatis, Alicia Ildefonso, Shaun Leonardo, Jean Berberis, Anais Alexandra Tekerian
Crew:Photography, Music & Text: Rachel Lears - Art direction & Choreography: Saya Woolfalk
Sales:Rachel Lears, Brooklyn, NY, 11238 - T: 646-431-5598
Email:rachel.lears@nyu.edu
Synopsis
Ethnography of No Place is a series of mock documentary videos that depict an imaginary world. Constructed from household materials (fabrics, sounds, gestures), the characters and stories evoke travel narratives, science fiction, and academic anthropology to rework tropes of sexuality, gender, and race. Inspired by the utopian nexus of ethnography and surrealism, the piece aims to produce an affective empathetic engagement with a place that is "other" than that of the viewer, and in which familiar hierarchies are broken down and reconstructed. Chapter 1: Self and Landscape. This video re-imagines desire and reproduction through the documentation of an Eden-like environment. The Self and the Landscape collapse into one another and negotiate forms of activity and passivity through their sensual interaction. Chapter 2: Death and Kin. In this video, the Self has aged and reached the end of her life. In gestures evoking the Butoh performance of Kazuo Ohno, she constructs her own tombstone and her relatives mourn her passing. The sentiment of loss breaks down the linearity of time, until finally the body transforms into landscape once again. Chapter 3: Portal. The beings of No Place use the detritus of our world to construct a portal that would give us access to theirs if only we could imagine how to use it.
Trailer
About the director
Rachel Lears, a filmmaker, musician, and writer based in Brooklyn, NY. She holds graduate degrees in ethnomusicology, documentary film, and cultural anthropology from New York University, and is currently in post-production on her first feature documentary, Birds of Passage, about young Uruguayan musicians who recount their experiences of migration through song.

Saya Woolfalk is a New York based artist who is currently a resident at the Studio Museum in Harlem. She holds an MFA in Sculpture from the School of the Art Institute of Chicago, and has exhibited at numerous galleries and museums, including PS1/MoMA Contemporary Art Center and the Museum of Contemporary Art in Chicago, IL.
Notes
Directors Rachel Lears and Saya Woolfalk will be available for Q&A after the screening.
Related links