1/1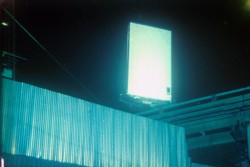 ---
LAST LETTER
World Premiere
United States, 2007, 5 min
Shooting Format:16mm
Festival Year:2008
Category:Experimental
Crew:Producers: Sinnel Sandoval, Ted Ciesielski - Editor: Ann Rossetti - Cinematographer: Ted Ciesielski - Poetry: Domonika Kosinska
Sales:Shay, Publicist - T: 347 645.5837
Email:shay1007@aol.com
Synopsis
A stark urban landscape of rooftops, billboards, and highways provide the backdrop for an open love letter that never reaches its recipient: a young soldier in Iraq.
About the director
Ted Ciesielski is a Polish director, cinematographer, expert on time lapse, fascinated with urban architecture. Ted is a Lodz Film School graduate. In the 80s directed several music videos for KULT, SIEKIERA, Cityzen GC. TIE BREAK. His passion for travel and truth lead him to documentary field. With his film camera he adventured over Europe and China, and finally saddle in New York in 90s. His obsession to urban landscape tern him to projects about Twin Towers, Empire State Building, billboards, oil tanks and trash in New York City.
Ted Ciesielski's filmography
Notes
Director Ted Ciesielski will be available for Q&A after the screening.
Related links