1/1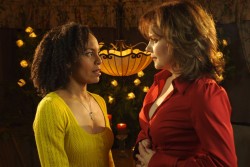 ---
HAPPENSTANCE
Director: Joyce Draganosky
United States, 2007, 7 min
Shooting Format:HDCAM
Festival Year:2008
Category:Narrative Short
Cast:Margaret Colin, Jay O. Sanders, Eisa Davis, John Driscoll
Crew:Producer: Maura McGloin - Screenwriter: Joyce Draganosky - Editor: Ann Husaini - Cinematographer: David A. Ford - Original Score: Peter Fish - Sound: Tonic, Inc - Executive Producer: Laureen Callo - Casting: Amy Gossels
Sales:Joyce Draganosky
Email:joyce@hollywontproductions.com
Synopsis
Beth discovers she has a lot in common with her son's new girlfriend.
About the director
Brooklyn Filmmaker Joyce Draganosky is an Emmy award-winning writer/director whose films have been selected for dozens of top festivals worldwide. She holds an MFA with honors from Columbia University. Joyce recently won the HBO Shout competition with Happenstance. Other films: Jared (winner Grand Jury Prize at Madrid Film Festival), Extreme Mom (winner Best Film at Columbia Film Festival) and The Science of Love (winner Alfred P. Sloan Foundation grant). The Science of Love now appears in an online exhibition at the Museum of the Moving Image and on MTVNs channel LOGO. Joyce is in development on her first feature film.
Notes
Director Joyce Draganosky and Executive Producer Laureen Callo will be available for Q&A after the screening.
Related links