1/1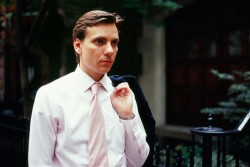 ---
JUST MAKE BELIEVE
East Coast Premiere
Cast:Anna Camp, Jadrien Steele
Crew:Producer: Akiva Potok - Screenwriter: Jadrien Steele - Editor: Jadrien Steele - Cinematographer: Tampico - Original Score: Tian
Sales:Jadrien Steele, Director - Brooklyn, New York 11215 - T: 917-902-8000
Email:jadriensteele@gmail.com
Synopsis
Two lonely dreamers masquerade in lives that are not their own in a search for happiness. But when they discover an uncommon emotional connection, can love overcome lies?
About the director
Jadrien Steele is an award-winning director, author and actor. VICTORIANA, his first feature film, recently won the New Visions Award at the Cinequest Film Festival where the film made its world premiere. His short films WINTER FUGUE (2009), JUST MAKE BELIEVE (2007), and SILENT MERCURY (2001) have screened and won prizes throughout the United States in film festivals including Sundance, Los Angeles, Palm Springs, Cleveland, and Brooklyn. Jadrien has also written two novels: THE MARKET (Hyperion, 2008) and THE TAKER (Hyperion, 2006). Jadrien began his career in entertainment at the age of five months as an actor on the soap opera RYAN'S HOPE. His other acting credits include the Emmy Award winning film adaptation of THE SECRET GARDEN, THE MOSQUITO COAST, NINE: THE MUSICAL, and STRANGE INTERLUDE. He lives in Brooklyn with his wife and two children.
Jadrien Steele's filmography
Notes
Director Jadrien Steele will be available for Q&A after the screening.
Related links