1/1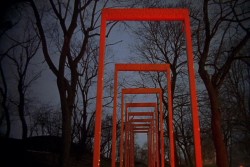 ---
MY GATES
World Premiere
United States, 2009, 3 min
Shooting Format:Super 16
Festival Year:2009
Category:Experimental
Crew:Executive Producer: Maureen A. Ryan - Producer: Sinnel Sandoval, Ted Ciesielski - Editor: Ted Ciesielski - Cinematographer: Ted Ciesielski - Original Score: Dikayl Rimmash, Curt Ramm
Sales:Ted Ciesielski, Producer - Brooklyn, NY 11211 - T: 917 482.0448
Email:filmtc@gmail.com
Synopsis
Seasons change as the installation of Christo and Jeanne-Cluade's "The Gates" gets underway in New York City's Central Park.  Ted Ciesielski's "My Gates" is a three-minute, highly-stylized, time-lapse documentary that is more impressionistic than factual.  Set to the music of Dikayl Rimmash and Curt Ramm, the short continues Ciesielski's highly personal explorations of cityscapes.
Trailer
About the director
Ted Ciesielski is a Polish director, cinematographer, expert on time lapse, fascinated with urban architecture. Ted is a Lodz Film School graduate. In the 80s directed several music videos for KULT, SIEKIERA, Cityzen GC. TIE BREAK. His passion for travel and truth lead him to documentary field. With his film camera he adventured over Europe and China, and finally saddle in New York in 90s. His obsession to urban landscape tern him to projects about Twin Towers, Empire State Building, billboards, oil tanks and trash in New York City.
Ted Ciesielski's filmography
Notes
Director Ted Ciesielski will be available for Q&A after the screenings.
Related links