1/1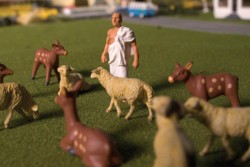 ---
TRAIN TOWN
East Coast Premiere
United States, 2007, 15 min
Shooting Format:35mm
Festival Year:2008
Category:Narrative Short
Cast:John L. Bader, Will Clinger, Merideth Anne Droeger, Zach Gray
Crew:Producers: Ericka Frederick, Paula Froehle - Screenwriter: Keith Bearden, Joel Haskard - Editor: Brad Buckwalter - Cinematographer: David Blood - Original Score: Dead Classical Composers, Sam Elwitt - Sound: Nick Denke
Sales:Keith Bearden, Long Island City, NY 11106
Email:greasyfilms@gmail.com
Synopsis
Two middle aged men stage a culture war in miniature at their model train shop.
Trailer
About the director
Keith Bearden's previous short film, THE RAFTMAN'S RAZOR, won SxSW, Seattle, Montreal, played TV all over the world, and is part of the permanent collection of the Museum of Modern Art. He lives in Brooklyn.
Notes
Director Keith Bearden will be available for Q&A after the screenings.
Related links