1/1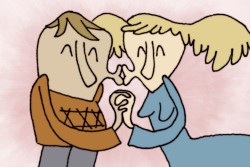 ---
BACKWARDS
World Premiere
United States, 2009, 4 min
Festival Year:2009
Category:Animation
Cast:Cristina Duran, Matt Adams
Crew:Executive Producer: Aaron Hughes - Producer: Lisa LaBracio - Screenwriter: Aaron Hughes - Editor: Aaron Hughes - Cinematographer: Lisa LaBracio - Original Score: Jenni Dykeman - Sound: Jason Kramer, Brad Fotsch
Sales:Aaron Hughes, Director - T: 646.345.8807
Email:aaronthings@gmail.com
Synopsis
A love story so backwards it has to be told in reverse.
Trailer
About the director
Aaron Hughes lives in Brooklyn and has been working on animation projects, commercial and independent, since his graduation from the School of Visual Arts in 2003. He also is now an adjunct professor at New York University and Pratt Institute.
Notes
Director Aaron Hughes & Producer Lisa LaBracio, will be available for Q&A after the screenings.
Related links