1/1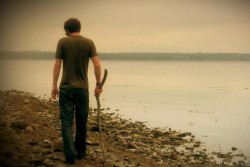 ---
BEACHCOMB REVUE
East Coast Premiere
Canada, 2007, 1 min
Festival Year:2009
Category:Experimental
Cast:Mike Gillis
Crew:Producer: Alec Mathewson - Writer: Mike Gillis - Cinematographer: Alec Mathewson - Editor: Alec Mathewson - Art Direction: Chad Burt, Caroline Lavergne - Visual Effects: Shervin Shoghian - Original Score: Jack Geddes - Sound: Danny Lutz
Sales:Alec Mathewson
Synopsis
An idealistic young garbage enthusiast sets out to scour the shoreline during his bi-weekly scavenge. Who knows what treasures he'll find? Spoiler Alert: it's treasure!
About the director
Alec Mathewson is a director and inter-disciplinary artist from Montreal. His work often deals with the idea of humanity and modern culture colliding with often noisy, ironic, or humorous results. In 2004 Alec directed Morbidly Obese, a documentary that was nominated for a Golden Sheaf award for best "Social Political Documentary" and has since aired globally on numerous networks. Alec's career is still young but he is building a solid reputation as a multifaceted artist with a flare for detailed, original content. While he continues to work on and develop new films, including a documentary which will be based in India and a short film, Alec's desire to enter into new cinematic territories has kept him equally busy and to this end, he has been working on several interactive video installations which he hopes to exhibit during the course of the upcoming year.
Notes
Director Alec Mathewson and Art Director Chad Burt will be available for Q&A after the screenings.
Related links