1/1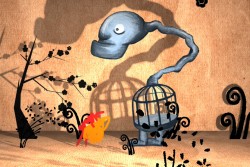 ---
THE CAGE
World Premiere
United States, 2008, 3 min
Festival Year:2009
Category:Animation
Crew:Producer & Editor: Jae Hoon Lee - Original Score: Andrew Silagy & Jae Hoon Lee
Sales:Jae Hoon Lee, Producer - Valencia, CA, 91355 - T: 661-414-2364
Email:goo85@naver.com
Web:JaeHoonLee.com
Synopsis
The invasion of creature who steal what people have inside! If you encounter that creature, what will you do? Do you have any valuable? If so, Is it more than one?
About the director
Jae Hoon Lee is a currently BFA student at California Institute of the Arts majoring Experimental Animation. Jae Hoon likes to work by combining computer generated graphics and various objects such as post it, thread, and cardboard.
Notes
Director Jae Hoon Lee will be available for Q&A after the screenings.
Related links