1/1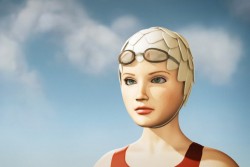 ---
DIVERS
Director: Paris Mavroidis
United States, 2008, 3 min
Festival Year:2009
Category:Animation
Crew:Music: Kaki King
Sales:Paris Mavroidis, Director - Brooklyn, NY 11217 - T: 347 218 3118
Email:paris@parismav.com
Web:www.parismav.com
Synopsis
Divers explores the abstraction of the human body into shape and the absorption of the individual into the mass.
Trailer
About the director
Paris Mavroidis is a filmmaker and programmer based in Brooklyn, NY. Most recently, he worked as a research assistant at the Digital Arts Research Lab at Pratt Institute, where he developed various 3D animation tools. Divers is his first animated short.
Filmmaker's note
Divers is inspired by Busby Berkeley, mass gymnastics and experimental cinema from the 20s and 30s.
Notes
Paris Mavroidis will be available for Q&A after the screenings.
Related links