1/1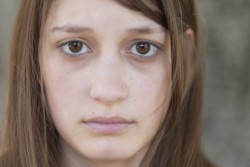 ---
CRYPTIC
NY Premiere
Director: John Weiner & Danny Kuchuck
United States, 2008, 83 min
Shooting Format:HDCAM
Festival Year:2009
Category:Narrative Feature
Cast:Toby Huss, Johnny Pacar, Jodi Thelen, Julie Carlson, Jadin Gould
Crew:Producer: Danny Kuchuck & John Weiner - Line Producer: Jenifer Shahin - Screenwriter: Danny Kuchuck & John Weiner - Editor: Justin Kelly - Cinematographer: Jay Keitel - Original Score: Kasi Engler - Production Designer: Justin Lieb
Sales:John Weiner, Producer - Los Angeles, CA 90026 - T: 213-413-1984
Email:crypticmail@aol.com
Web:crypticmovie.com
Synopsis
Cryptic is a thriller that takes place in a land we call a slacker Twilight Zone. With her life at a dead end, 19 year-old Jessie finds her old cellphone and uses it to communicate with her younger self. As she changes her past, she changes herself...but now she's wiped away all her old memories ... until she finds the phone again and a very cryptic message...
Trailer
About the director
John Weiner & Danny Kuchuck are NYC guys who moved out to LA and have made a living as a screenwriting team. This is their first chance at directing one of their scripts after years of seeing their screenplays, written in blood, sweat and tears, abandoned before moving into production and then promptly getting tied up for eternity by studios with lots of money.
Notes
Directors John Weiner & Danny Kuchuck will be available for Q&A after the screenings.
Related links