1/1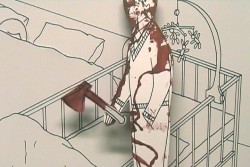 ---
FAMILY
World Premiere
Estonia, 2007, 4 min
Festival Year:2009
Category:Animation
Sales:Gregory Slick, Beacon, NY 12508 - T: 917.576.0187
Email:greg.slick@gmail.com
Web:www.maetamm.net
Synopsis
There is an axe-man running around the flat after his wife and two children. The wife and children try to hide, but the axe-man always finds them. And every time the axe-man kills them, he is more and more covered with blood. And the wife and two children are more and more well. And it never ends.
Trailer
About the director
Marko Maetamm studied printmaking in Estonian Academy of Arts and graduated in1995. Marko's work utilizes mixed-media from photos, objects, animations, paintings and texts.
Filmmaker's note
My projects are about family and domestic issues. I am interested in how society manipulates with me as a family man and how I see myself in relationship with my wife and children and with society that surrounds us.
Notes
Film Rep Anneliis Beadnell will be available for Q&A after the screenings.
Related links