1/1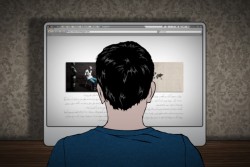 ---
IRAN: A NATION OF BLOGGERS
US Premiere
Canada, 2008, 2 min
Festival Year:2009
Category:Animation
Crew:Art Director: Aaron Chiesa - Screenwriter: Kate Tremills - Editor: Hendy Sukarya - Cinematographer: Aaron Chiesa - Sound Designer: Aaron Chiesa - Animator: Handy Sukarya - Illustrator: Toru Kageyama - 3D animator: Lisa Temes
Sales:Aaron Chiesa - VFS, 200-198 W.Hastings St., Vancouver BC, V6B 1H2 Canada - T: +1 604 764 9495
Email:videovague@gmail.com
Web:aaronchiesa.com
Synopsis
An exploration of how the digital world allows many Iranians access to ideas and freedom of expression they haven't had for close to thirty years. Blogging is, in essence, a means of revolution.
Trailer
About the director
Aaron Chiesa is Swiss-Italian. Demonstrating a well trained artistic eye and strong technical acumen, he creates compelling works spanning film, video, interactive and still media. He studied cinematography in Milan and he spent most of his time working in film, commercials and documentaries.
Filmmaker's note
This project was created by a collective of four student at VFS.
Related links