1/1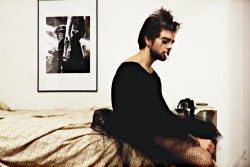 ---
JUKKA
NY Premiere
Director: Emmanuel Trousse
Monaco, 2009, 12 min
Shooting Format:HDCAM
Festival Year:2009
Category:Experimental
Cast:Jeremiah Maestas, Prune Derriennic, Noura Jost, Tunde Somade, Kristie Reeves
Crew:Producer: Emmanuel Trousse / Jukka Productions - Screenwriter, Cinematographer & Assistant Editor: Emmanuel Trousse - Editor: Sasa Jokic - Original Score & Sound: Sacha Vanony
Sales:Emmanuel Trousse, Producer - Jukka Productions, 3 rue Louis- Auréglia 98000 Monaco
Email:emmanuel.trousse@gmail.com
Synopsis
"Two nights ago, a man put the barrel of his gun to my forehead and started to cry..." This film is a labyrinth, a journey into the human condition in times of crisis. With a series of vignettes, the spectator stumbles into a world of love, lust and violence, and the never ending quest for identity seen through the eyes of a photographer or perhaps just a voyeur, both a director and a slave to his memory of the past, the present, and the future.
Trailer
About the director
Emmanuel Trousse (1984, Monaco). After graduating from a Photography school in Barcelona, he moves to New York to pursue his studies in Filmmaking. In the meantime, he works as an assistant for Donna Ferrato, collaborating with her on a short Documentary Film, in memory of the late war photojournalist Philip Jones Griffiths. Since 2008, he has been working freelance in film and photography, both in Europe and the US. JUKKA marks his directorial debut.
Notes
Director Emmanuel Trousse will be available for Q&A after the screenings.
Related links