1/1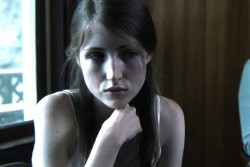 ---
KNIFE POINT
NY Premiere
Director: Carlo Mirabella-Davis
WINNER: Best New Director and Best Actor Female
Cast:Lev Gorn, Davis Hall, Kate Lyn Sheil, Lucy McMichael, Jan Uczkowski
Crew:Executive Producer: Grant DeSimone - Producer: Grant DeSimone - Screenwriter: Carlo Mirabella-Davis - Editor: Carlo Mirabella-Davis - Cinematographer: Chris Dapkins - Original Score: Dika Durbuzovic - Sound Design: Brett Hammond - Production and Costume Design: Francesca Mirabella - Casting Director: Allison Twardziak
Sales:Carlo Mirabella-Davis - Riverdale, NY, 10471, USA - T: +1 347.463.0271
Email:carlomirabelladavis@gmail.com
Synopsis
An evangelical family passing through upstate New York gives a ride to an unusual traveling knife salesman.
About the director
Carlo Mirabella-Davis co-founded Elkcreek Cinema in 1998, a film collective dedicated to narrative genre work involving the upstate New York area. He has a BFA from Tisch NYU Undergraduate Film School and has just completed his master's degree at Tisch NYU Graduate Film School. He also teaches directing and screenwriting at the New York Film Academy. Carlo wrote and directed "Knife Point" in 2009. He is currently working on his new feature film.
Notes
Director Carlo Mirabella-Davis and Cast & Crew will be available for Q&A after the screenings.
Related links