1/1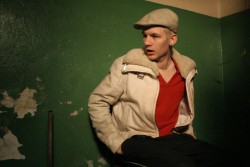 ---
LUXURY
(Luksus)
Director: Jarek Sztandera
Poland, 2008, 39 min
Shooting Format:35mm
Festival Year:2009
Category:Narrative Short
Cast:Piotr Sokolowski, Zbigniew Zamachowski, Michal Wlodarczyk
Crew:Executive Producer: The National Film School in Lodz, TVP S.A. - Producer: The National Film School in Lodz - Screenwriter: Tomek Olejarczyk, Jarek Sztandera - Editor: Jarek Sztandera - Cinematographer: Radek Ładczuk
Sales:Katarzyna Wilk - Krakow Film Foundation, Morawskiego 5 p.434, 30-102 Krakow, Poland - T: +48122946945
Email:katarzyna@kff.com.pl
Synopsis
The lives of two boys converge at the central train station in Warsaw a day before Christmas. One is a teen prostitute nicknamed Luksus (Luxury) and the other is a beggar with a dog. The older one, because of his age, has just finished his 'career'. The younger one is only a step away from it as he has come into possession of a valuable notebook with the addresses and telephone numbers of clients. A local taxi driver, the main client and agent in the underage sex business, offers Luksus a job as a tout. Will the boy exploit his younger friend or will he help him escape pedophiles' clutches? Painfully realistic, photographed in the authentic setting of the station, Sztandera's film touches upon a real problem often ignored by Polish cinema.
About the director
Jarek Sztandera (Poland, 1974) is a last year student at The Polish Filmschool in Lodz. "Luxury" it is his first short fiction. His first documentary "For a Miracle" has won several national and international short film awards.
Notes
Director Jarek Sztandera will be available for Q&A after the screenings.
Related links