1/1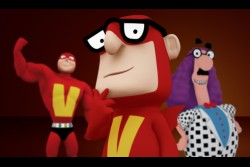 ---
PSICOVIP
US Premiere
Italy, 2008, 4 min
Festival Year:2009
Category:Animation
Cast:Riccardo Mazzoli, Enrico Maggi, Paolo De Santis
Crew:Producers: Maga Animation Studio, RAI Fiction - Screenwriter: Nicola Ioppolo - Music: Maurizio Malagnini - Sound Effects: Demetrio Focarelli Barone - Storyboard: Fabio Pacifico, Branko Rakic, Igor Lazarevic, Djordje Milijanovic
Sales:Raffaella Calvino Prina, Sales / Licensing Manager - Maga animation studio Srl, Via Artigianelli, 4 - 20052 Monza (Milan) ITALY - T: +39 039 3900617
Email:r.calvinoprina@maga-animation.com
Web:www.psicovip.com
Synopsis
Minivip and Supervip are two super brothers who are very different from one another. One is as feeble and intelligent as the other is strong and naive. Because of their differences, Minivip, the weakest superhero in the universe, has ended up with an inferiority complex and is now undergoing analysis from Doc, the most incompetent, most dishonest shrink in the world. In these comical sessions, Minivip tells him about his dreams, adventures and nightmares, which reveal the fears and anxieties that hound him day after day, outlining bizarre, humorous situations that it would otherwise be impossible to imagine.
Trailer
About the director
Bruno Bozzetto (Milan, 1938) produced three animated feature films "West&Soda", "Vip my brother superman", "Allegro non troppo" and many animated shorts. He has been awarded many prizes among which the Golden Bear to "Mister Tao" at the Berlin Film Festival in 1990 and the Oscar nomination to "Grasshoppers" in 1991. Together with Piero Angela he has also directed a hundred animated shorts of educational scientific matter. Bruno Bozzetto's best known character is Mister Rossi. Since 2000 he has been devoting his time to Flash animations for the web gaining great success. Today, Bruno Bozzetto with the full support of his own new Studio of production, Studio Bozzetto&Co., is also focusing on 3D animation.
Notes
Animation supervisor Andrea Delfino will be available for Q&A after the screenings.
Related links