1/1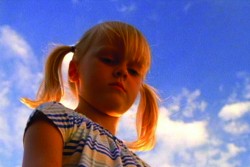 ---
SIX AND A HALF
NY Premiere
Director: Ana Lily Amirpour
United States, 2008, 5 min
Shooting Format:Super 16
Festival Year:2009
Category:Narrative Short
Cast:Harley Graham, Michael Gallagher
Crew:Producers: Sina Sayyah, Ehren Parks - Screenwriter: Ana Lily Amirpour - Editor: Ed Friesema - Cinematographer: Topher Osborn - Casting Director: Brandon Hemmerling - Sound design: Brian Carmody
Sales:Sina Sayyah, Producer - West Hollywood, CA 90048 - T: 310.717.1709
Email:sinasayyah@gmail.com
Synopsis
When a little girl tries to catch a frog in a pond, she has a painful accident and blames the frog... so she goes back for revenge.
About the director
An Iranian-American writer/director with a varied background in the arts including oil painting, sculpting and playing bass in a rock band, Ana Lily Amirpour made her first film at the age of 12, a horror movie starring the guests of a slumber party. She is in pre-production on her debut feature, THE STONES, a volatile drama about the lives of teenagers in modern-day Tehran. The script was grand prize winner of the 2007 Bluecat Screenwriting Competition, a participant in the 2009 Tribeca All Access program and winner of the 2009 Adrienne Shelly Foundation Fellowship. The project is being produced by Gordy Hoffman (LOVE LIZA) with Ana Lily attached to direct. Her short film SIX AND A HALF has screened at festivals around the world including Slamdance, Nashville, Milan and is a winner of the Golden Ace Award at the Las Vegas International Film Festival.
Notes
Director Ana Lily Amirpour & Producer Sina Sayyah, will be available for Q&A after the screenings.
Related links