1/1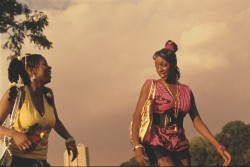 ---
TOP GIRL
US Premiere
Director: Rebecca Johnson
England, 2008, 19 min
Shooting Format:16mm
Festival Year:2009
Category:Narrative Short
Cast:Rumbi Mautsi, Naomi J. Lewis, Alexis Rodney, Jay Brown, Kerron Darby
Crew:Executive Producer: Victoria Lorkin-Lange - Producer: Rebecca Johnson, Dee Meaden, Sian Buckley - Screenwriter: Rebecca Johnson - Editor: Mags Arnold - Cinematographer: David Raedeker - Original Score: Skwilla Gee - Sound: Adele Fletcher
Sales:Katie Metcalfe - Future Shorts - 71 Leonard Street London EC2A 4QU United Kingdom - T: +44 (0) 207 739 6055
Email:katie@futureshorts.com
Synopsis
Set in Brixton South London, and shot using a cast of new and non-actors, TOP GIRL is a truthful and tender coming of age tale. Fearless 15 year old Donna and her best mate Felicia set off on a mission to find Legz, a supercool 20 year old with a recording studio in the bedroom of his mum's flat. The idea is for Donna to MC on a track but events don't go according to plan. With irrepressible moxie, TOP GIRL captures the intensity of youth and the reality of growing up as a teenage girl in a man's world.
Trailer
About the director
Rebecca Johnson is an award-winning writer/director making drama and documentary under the banner of not-for-profit company Fierce Productions. Fierce work with young people in South London and every production is also a training and mentoring programme. In 2008 Rebecca completed TOP GIRL and HOME TURF, a fly-on-the-wall documentary about the Brixton estate where TOP GIRL was shot. Rebecca is now developing a "British Wire" set in Brixton. Her next short STRIPES has also been short-listed for the UK Film Council's Cinema Extreme strand. Rebecca has been selected for the UK's prestigious Guiding Lights programme, under which she is being mentored by BOURNE and UNITED 93 director Paul Greengrass and is represented by Laura Rourke at Independent Talent.
Notes
Director Rebecca Johnson will be available for Q&A after the screenings.
Related links