1/1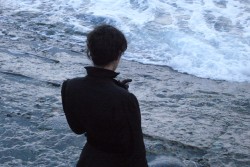 ---
TROUBLED WATERS
(Eaux Troubles)
East Coast Premiere
Director: Charlotte Erlih
France, 2008, 20 min
Shooting Format:Super 16
Festival Year:2009
Category:Narrative Short
Cast:Marie Desgranges, Mathurin Voltz, Jean Pagni, Jean-Jacques Harte
Crew:Producer: David Frenkel - Line Producer : Jean-Charles Berlan - Director : Charlotte Erlih - Screenwriter: Charlotte Erlih - Based on a short story by: Maylis de Kerangal - Editor: Isabelle Manquillet - Cinematographer: Denis Gaubert - Original Score: Eric Neveux - Sound: Mitia Wexler, Julien Ngo-Trong, Mélissa Petitjean
Sales:David Frenkel, Producer - Why not productions, 3 rue paillet 75005 Paris, France - T: +33148242453 / +33 6 61 22 00 65 - F: +33148242451 - E: davidfrenkel@hotmail.com
Email:david@whynotproductions.fr
Synopsis
1910. Louis, 17, helps a wealthy stranger, Théodora, 40, to find the body of her husband, who shipwrecked. He drags her, at sunset, on his weak skiff. Their morbid hunt will lead them until sunrise.
Trailer
About the director
Charlotte Erlih studied litterature and has teached Theatre at the University. She has directed 10 plays and was the assistant of director Coline Serreau both for the theatre and the opera. Charlotte has directed two short movies produced by Why Not Productions and she is currently writing her first feature film.
Notes
Director Charlotte Erlih will be available for Q&A after the screenings.
Related links