1/1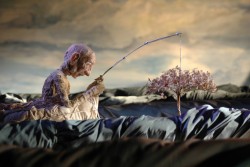 ---
UNDONE
United States, 2008, 6 min
Festival Year:2009
Category:Animation
Crew:Hayley Morris
Sales:Hayley Morris
Email:hmorris@curiouspictures.com
Synopsis
A drifting man struggles to pull objects from the roiling sea below him and scrambles to keep the objects from slipping through his fingers. A stop-motion animation using textured and tactile materials, as well as personal imagery, that represents the progression of Alzheimer's disease in a poetic and visual way. Inspired by the filmmaker's grandfather.
Trailer
About the director
Hayley Morris grew up in the suburbs of NY in a colonial house, surrounded by antique objects, many pets and the blasting sounds of her twin brothers' band. Here her mother introduced her to silent films and monster movies, sculpting and drawing; these sparked her interest in creating fantastical worlds. Stop-motion/traditional animation has allowed Hayley the ability to reveal the landscape of her imagination through hands on experimentation and discovery. Her main goal as a filmmaker/animator is to create meaningful and beautiful pieces that utilize unusual materials and characters in order to convey the themes that interest her. She hopes her work affects each person in a different way and the images stay with them long after the projector has turned off.
Notes
Director Hayley Morris will be available for Q&A after the screenings.
Related links